She blew me away.
My daughter got out of the orthodontist's chair yesterday, flashed me her first metal-free grin in 18 months.
And she blew me away
.
Who was this dazzling young woman and what did she do with my little girl?
Looking at the gorgeous final product, you'd never guess what it took to get here.
Canker sores. Bleeding gums. Regular tightening and adjustments. Incessant nagging by her mother to floss and quit chewing gum. Which obviously was quite effective because I think Molly held the
all-time record
for most broken brackets.
No "Patient of the Month" awards here. "Parent of the Year" honors weren't exactly pouring in either.
After begging her to brush and floss properly, I was finally reduced to pointing out the scary pictures in the office of kids who didn't take care of their braces.
Me:
Look, Molly!
That's
what you're teeth are going to look like. Take a good
long
look at those big stains on their teeth. And those don't come off either! They'll be there for. the .rest. of. your.life. Is that what you want?! Huh?! Huh?!
Molly:
You worry too much. They're
my
teeth. If
I
screw them up,
I'll
have to live with it.
Me:
Listen, young lady. I'm not paying five thousand bucks for you to look like a hillbilly!
I'd actually have nightmares about her getting them off.
How would they look?
How could everything possibly turn out okay after all the setbacks and struggles?

Gradually, and I'm not sure exactly how, but it got easier. I quit having to remind her to brush and wear her rubberbands.
We had three consecutive visits without breaking something.
And yesterday, the pearly payoff.

I was struck by how our orthodontic struggles paralleled the many other struggles Molly and I have worked through as mother and daughter over the past two years.
The transition from
my
little girl to an independent adolescent haven't been easy.
Just like with her braces, as a parent, I've had to make constant adjustments in my approach and expectations.
At times, changes in me and Molly – growth in our relationship and character -- happened so slowly I've felt like we were making no progress at all. Other times, I've felt broken. And putting things back together was sometimes costly and painful.
I've had to rely on a Divine Doctor who knows far more that I do about how to straighten things out.
And I've wondered – and often still do – about how it will all turn out.
But, slowly, things have gotten easier. Good changes are happening.
And every time I see her flash that beautiful smile, I'll be reminded that if I continue to persevere, the struggle really does pay off.
We can rejoice, too, when we run into problems and trials, for we know that they help us develop endurance. And endurance develops strength of character, and character strengthens our confident hope of salvation.
Romans 5:3-4 (NLT)


I'm thrilled to be the Blog Friend Feature over at
Things I Can't Say
today! If you are visiting me from Shell's place, I am so glad you're here!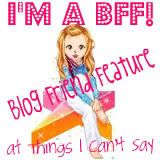 And if you don't know Shell, please be sure to go over and check out her

awesome blog

. She is such a genuine, open and caring blogging friend. And she's been so wonderfully supportive of me on my blogging journey. I'm honored to be featured on her site. You'll want to be one of her BFFs, too!